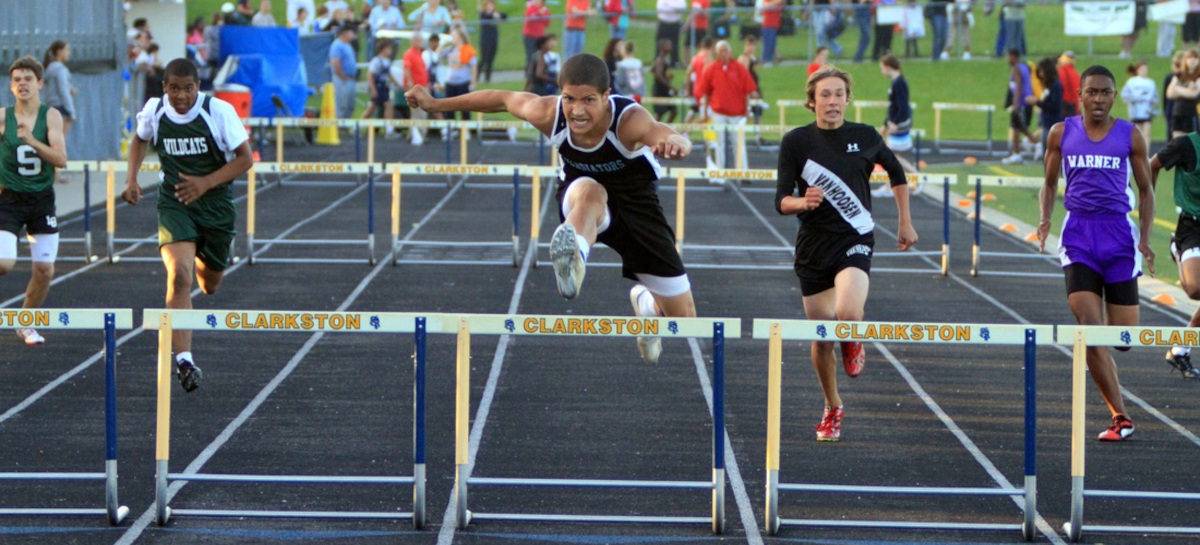 Time
The meet starts with field events at 1:00 and semifinals at 1:30.  The schedule is approximate.  Depending on many factors, the meet may be running faster or slower than the posted approximate times. Always arrive early. 
Parking
There are multiple lots to use around Clarkston High School. See the map for locations of each lot. Lot A which is closest to the stadium has limited parking and fills up quickly. Lot B is closed until the dismissal of students and busses at 3:00pm. Parking Tip: Lots E & F seem far but have close access if you use the back sidewalk to the back gate instead of going all away around to the front. Bonus, even with this tip online, lots E & F rarely fill up. The drive behind the school is closed to all traffic except officials and meet workers only. There is no parking behind the school. All the main and overflow lots can be accessed from the front via Flemings Lake Road. Please use legal parking spaces. The sheriff department will be monitoring to make sure emergency vehicles have access. Those parked illegally may be ticketed and/or towed.
Admission
Admission to the meet is $5 for both students and adults. School or league passes are not accepted.
Viewing
You may use the home stands or the visitor stands to view the meet. The home stands are near the finish line and usually fill up first. Restrooms are located at the top of the stairs inside the building. There are restricted areas to avoid. Inside the track and roped off areas near field events are for athletes only. Entering a restricted area may result in the disqualification of your athlete.
Souvenir T-shirts
Souvenir t-shirts are available for sale near the main front gate. Cost is $20. Adult sizing (small, medium, large, x-large).
Awards
In each event, the top 3 athletes earn medals and 4th through 8th place earn ribbons. Awards are announced and handed out between events on the 50 yard line facing the home stands. Look for the awards podium. Top 3 girls and top 3 boys teams will receive trophies at the end of the meet. You can follow the results during the meet at: ocmstrackmeet.com/live
Spikes
You may have been convinced by your athlete to purchase racing shoes (otherwise known as spikes because they come with spikes). Be aware that some racing shoes come with longer spikes (like cross country) depending on the shoe/brand. Only 1/4 inch pyramid spikes or shorter are allowed. If an athlete has spikes longer than 1/4 inch, they will be disqualified from their event.